A Family-Friendly Fundraiser Supporting Needham Students and Teachers
Starting in 1992, the Needham Education Foundation held an annual Spelling Bee to raise funds to support innovative and enriching educational programs that benefit all Needham public school students. In 2021, the NEF transitioned to a Trivia Bee to better connect with Needham families, as well as local businesses, community groups, and schools. The event continues to engage the Needham community in family-friendly fun for a good cause.
Working in teams of up to 6 participants, you will test your knowledge in a wide range of categories – including Arts & Literature, Entertainment, Geography, History, Needham History, Pop Culture, Science, and Sports! Answers are entered into your mobile device using polling software. We recommend that teams with elementary school students also include at least one to two adults. For questions about the event, please contact Sarah Winig, our Administrative Director, at swinig@nefneedham.org.
The evening is hosted by Mike "Sarge" Riley, a Needham native and veteran Boston sports radio personality. Gather a team of family, friends, or co-workers, and come join us for a lively evening of trivia. "Bee" creative and join the fun!
Due to space constraints in the NHS Cafeteria, room for spectators is limited, though parents of participating students may attend. If you are not participating on a team, we encourage you to watch the event on the Needham Channel, which will be broadcast multiple times in April.
Purchase Raffle Tickets for A Chance to Win One of our Locally-Themed Baskets!
Our popular raffle is back! Tickets are $5 each for a chance to win one of 8 themed baskets. Buy your tickets online by Thursday, March 9th at 9:00 a.m. or at the Bee if you are on a participating team!
The winners will be announced at the end of the Trivia Bee. You do not need to be present to win. The NEF will contact all winners to coordinate delivery of the baskets to winner's homes (Needham, MA only!) on Friday, March 10th.
Thank you to our generous Needham restaurants and businesses for their donations! Please support them by shopping and dining local!
This year's Raffle has ended and all winners have been notified.
Basket # 1 Farm To Table (Value $193)
Basket #2 Treat The Kiddos (Value $884)
Basket #3 Pamper Yourself & Your Pooch (Value $730)
Basket # 4 For All The Sports Fanatics!! (Value $625)
Autographed Hockey puck from Anton Blidh of the Boston Bruins (Priceless!)

Autographed Photo of Jakobi Meyers of the New England Patriots (Priceless!)

Autographed Photo of Rafael Devers of the Boston Red Sox (Priceless!)

Autographed MLB ball from Garrett Whitlock of the Boston Red Sox (Priceless!)

$200 gift certificate towards a Junior Tennis Academy class at

Dedham Health and Athletic Complex

Gift Certificate for 1-wk Youth training, 1-wk Teen Girl training, & 1-mo Adult training at

Gray's Anatomy Academy

Beanie hat, T-shirt, and Zip-up hoodie from

PVCK
Basket # 5 Dine Local Needham (Value $302)
Basket #6 Don't Worry "Bee" Healthy (Value $1,127)
Basket #7 Celebrate!!! (Value $694)
Basket #8 Wake Up And Go (Value $412)
Thank You to Our 2023 Head of Class Sponsors!

Thank You to Our 2023 Star Student Sponsors!

Thank You to Our 2023 High Honor Roll Sponsor!

Thank You to Our Generous Sponsors!
Refreshments and Balloons donated by Roche Bros.
Flowers donated by Volante Farms
Cupcakes donated by Treat Cupcake Bar
Bee Sign Display donated by Card My Yard

Advertising Sponsors
Brookline Bank, The Bulfinch Group, Carrie Reddish DMD, Chestnut Dental, Condon Realty, Dedham Savings, Fidelity Bank, Glicksman Orthodontics, Gloria Conviser, Realtor, Keller Williams Realty, Lena Voloshin, Compass, Needham Goes Purple, New England Outdoor Camp, Provider Group, The Ralph Leader Family, Representative Denise Garlick, Rockland Trust, The Varano Realty Group
School Team Sponsors
Ann MacFate, Broadmeadow PTC, Copley Motorcars Corporation, Eliot PTC, Mitchell PTC, Needham Finance Committee, Needham School Committee, Needham Women's Club, New England Outdoor Camp, Rockland Trust, Sunita Williams PTC
Thank you to the Needham Channel for recording and broadcasting the Trivia Bee.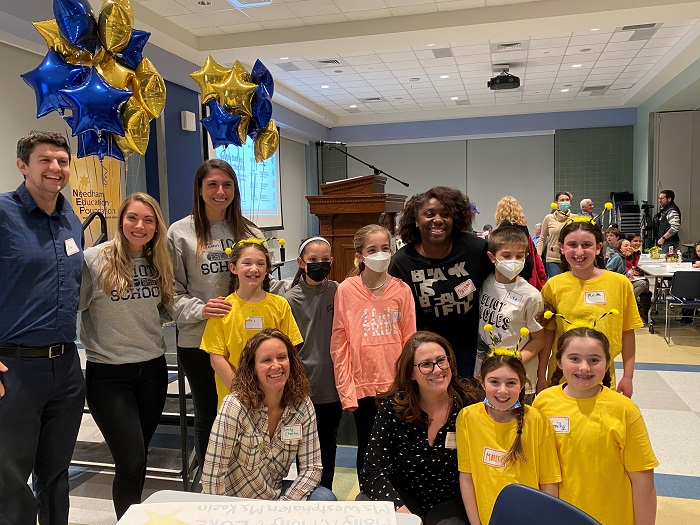 2023 Trivia Bee
Thursday, March 9, 2023
7:00 p.m.
Needham High School Cafeteria
609 Webster St
Overall Team Prizes:
1st, 2nd, & 3rd place teams
Category Prize:
Best Team Name
Mike "Sarge" Riley
Mike Riley is a Needham, MA native and a proud graduate of the Needham Public school system (Mitchell, Pollard, and Needham High).
A veteran Boston sports radio on-air personality with nearly two decades of experience behind the microphone in the Boston area, Riley, better known to his listening audience as "Sarge," is currently a sports co-host/anchor on the Revolution, Patriots, Bruins, and Celtics flagship radio station.
He is also a public address announcer at Gillette Stadium for the New England Patriots and the New England Revolution, and the Providence Friars Men's Hockey team, while also operating his own entertainment and sports memorabilia business.
Make a Direct Donation
If you prefer to donate to the NEF directly, please use the link below. We appreciate your support!
The Needham Education Foundation, Inc. (NEF) is operated for charitable purposes and is registered with the IRS as a 501(c)(3) tax exempt organization. Donations to the NEF are tax-deductible to the extent permitted by law.  Please consult a tax advisor regarding specific questions about your individual deductions. Thank you for your generosity.