A Family-Friendly Fundraiser Supporting Needham Students and Teachers
Starting in 1992, the Needham Education Foundation held an annual Spelling Bee to raise funds to support innovative and enriching educational programs that benefit all Needham public school students. In 2021, the NEF transitioned to a Trivia Bee to better connect with Needham families, as well as local businesses, community groups, and schools. The event continues to engage the Needham community in family-friendly fun for a good cause.
Working in teams of up to 6 participants, you will test your knowledge in a wide range of categories – including Arts & Literature, Entertainment, Geography, History, Needham History, Pop Culture, Science, and Sports! Answers are entered into your mobile device using polling software. We recommend that teams with elementary school students also include at least one to two adults. For questions about the event, please contact Sarah Winig, our Administrative Director, at swinig@nefneedham.org.
The evening is hosted by Mike "Sarge" Riley, a Needham native and veteran Boston sports radio personality. Gather a team of family, friends, or co-workers, and come join us for a lively evening of trivia. "Bee" creative and join the fun!
Due to space constraints in the NHS Cafeteria, room for spectators is limited, though parents of participating students may attend. If you are not participating on a team, we encourage you to watch the event on the Needham Channel, which will be broadcast multiple times in March and April.
Registration for the 2024 Trivia Bee will open to the general public on Monday, January 29th!
Ways to Support the Bee
The NEF Trivia Bee is a great way to gain visibility for your business or organization while supporting the Needham Public Schools. Team sponsors and advertisers will reach nearly 400 participants and attendees from the Needham community. Raffle donors reach attendees, as well as our 2000+ email and social media contacts. Event sponsors reach attendees, email and social media contacts, as well as all community viewers of the event shown on the Needham Channel. The NEF relies on local businesses, community organizations, and individuals to make the Bee a success. No matter how you choose to support the Bee, you are making learning come alive for Needham Public School students. Thank You!
Register a Bee Team — $175
Each team can include up to 6 participants. Consider forming a team with your family, friends, co-workers, or neighbors!
Make an In-Kind Donation to our Raffle — $TBD
Donate a gift certificate or item(s) to be included in our popular raffle. Items are grouped into themed baskets. Raffle tickets are $5 each and are sold online the week preceding the Trivia Bee and at the Trivia Bee for participants. Raffle sponsors' name, donation description, and website link are included in our website and email communication and an acknowledgment is included in social media posts and the event program.
Sponsor a School Team — $175
We are thrilled that all eight Needham schools send one to two teams of students, parents, and teachers to represent their school at the Bee each year. Consider sponsoring one of these school teams so that they may compete for free. Sponsors are listed on the teams page of the Bee program and receive an acknowledgment on the NEF website and in the event program.
Purchase an Ad in the Bee Slideshow — $100-$300
Advertise your business or organization in the Bee slideshow which will be shown on loop to the hundreds of Bee participants and spectators for 45 minutes before the event begins and during any breaks. Receive an acknowledgment on the NEF website and in the event program. All ads are full-color. Choose one of the following levels:
Quarter-page ad (3.25″h x 6″w) — $100

Half-page ad (6.5″h x 5.5″w) — $200

Full-page ad (6.5″h x 12″w) — $300
Event Sponsorships

Interested in becoming an event sponsor of the NEF's Trivia Bee? We now include Trivia Bee event sponsorship benefits within our new Partners in Education program. This program increases the visibility of your generousity to include year-round benefits. Click the button below to learn more about this exciting program. Contact Sarah Winig, our Administrative Director, at swinig@nefneedham.org if you have any questions.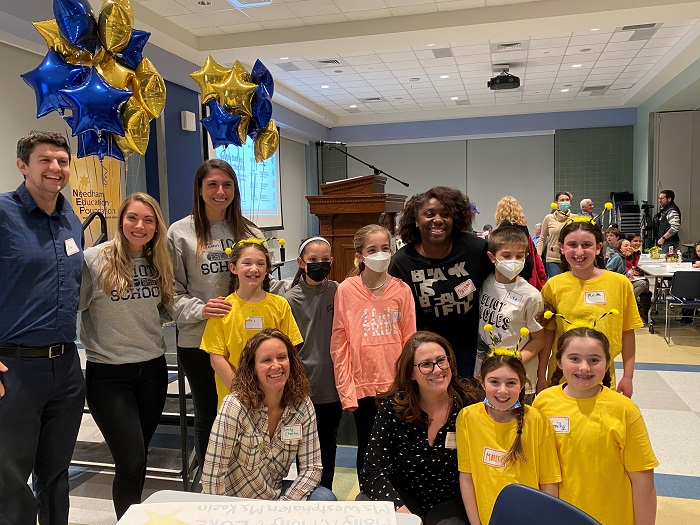 2024 Trivia Bee
Thursday, March 14, 2024
7:00 p.m.
Needham High School Cafeteria
609 Webster St
Overall Team Prizes:
1st, 2nd, & 3rd place teams
Category Prize:
Best Team Name
Mike "Sarge" Riley
Mike Riley is a Needham, MA native and a proud graduate of the Needham Public school system (Mitchell, Pollard, and Needham High).
A veteran Boston sports radio on-air personality with nearly two decades of experience behind the microphone in the Boston area, Riley, better known to his listening audience as "Sarge," is currently a sports co-host/anchor on the Revolution, Patriots, Bruins, and Celtics flagship radio station.
He is also a public address announcer at Gillette Stadium for the New England Patriots and the New England Revolution, and the Providence Friars Men's Hockey team, while also operating his own entertainment and sports memorabilia business.
Make a Direct Donation
If you prefer to donate to the NEF directly, please use the link below. We appreciate your support!
The Needham Education Foundation, Inc. (NEF) is operated for charitable purposes and is registered with the IRS as a 501(c)(3) tax exempt organization. Donations to the NEF are tax-deductible to the extent permitted by law.  Please consult a tax advisor regarding specific questions about your individual deductions. Thank you for your generosity.